We are proud to present an exciting line-up of speakers addressing the future of dietetics as we go forward to vision the continuum of education, credentialing, policy and practice. Topics will include local updates regarding licensure and education as well as national issues on hunger and national policy. We will be updated on how to use social media to better communicate with each other and our clients. A researcher will talk about using technology for diet assessment. We will look at the future of Long-Term Care and be updated on the most recent Clinical Practice Guidelines for management of CKD patients. There is definitely something for everyone.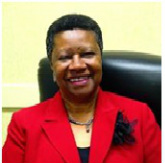 Our keynote speaker is Dr. Evelyn Crayton. Her area of specialty is Nutrition Education for Public and Community Nutrition and until recently she has served as Assistant Director of Family and Consumer Science of the Alabama Cooperative Extension System. Dr. Crayton earned degrees from Grambling State University, St. Louis University and Auburn University. She also serves on the Board of Directors of the Academy of Nutrition and Dietetics. She is also a member of the ADA Nutrition Education for the Public Practice Group. She will speak on Hunger in America. Evelyn will also share what's happening on a national level from the Academy. This is a perfect opportunity to ask questions -Evelyn wants to hear from us.
We have a variety of vendors, several new to our venue who want to share their products and services. Bring your appetite because you will be feasting on a fabulous lunch in addition to samples from our vendors.
Each participant will receive a gift for attending as well as the opportunity to win amazing prizes!
NEW! Silent Auction
Help the Hawaii Dietetic Association move forward by donating a gift to sell at our first conference silent auction.
All proceeds will be used to fund projects and initiatives to help our organization play a more active role in our community. Just drop off your donation in the designated area. Volunteers will coordinate the auction. Click here for details.