Conference Details
Hawaii Dietetic Association Annual Conference 2015 – "Building Connections"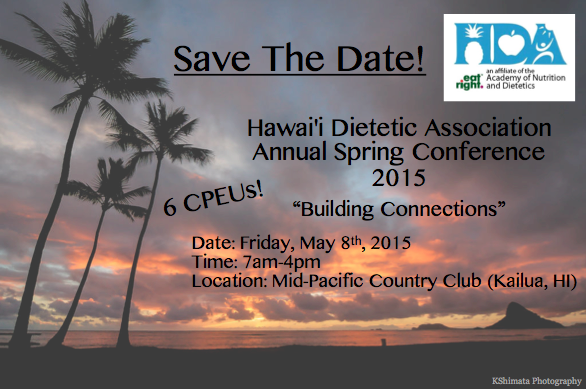 When: Friday, May 8th, 2015 from 7am – 4pm
Where: Mid-Pacific Country Club (Kailua, Hawaii)
Why: Build connections with other nutrition professionals, discuss new approaches and leading-edge topics, and have fun! You can earn up to 6 CPEUs.
Speakers:
Pat Crawford, PhD – "Reducing Obesity and Related Chronic Disease Risk in Children and Youth: Current Research and Future Directions"
Ramona Wong, MD and Laurie Tom, MD – "What Do Doctors Expect From Dietitians?"
Amy Tousman, MPH, RD, CDE – "Consumer Protection: It's Our Priority"
Jane White, PhD, RD, FAND, LDN – "Malnutrition Assessment in Action"
Ruby Hayasaka, MS, MA, RD, LD – "The Gift and the Opportunity in Nutrition and Dietetics"
Jo Robinson, Health Journalist – "Eating on the Wild Side: The Missing Link to Optimum Health
Enjoy the HDA Annual Conference Silent Auction! Help celebrate our Annual Conference by donating an item to our silent auction. Monies will go towards the general HDA fund. Donations may include:
Items: crafts, jewelry, prepackaged foods, canned items (no fresh baked goods or foods), needle work, framed art
Services: meals, massages, car detailing, fitness training, tennis lessons, etc.
Gift Cards: restaurants, shopping
Please bring your donations to the conference and check-in at registration. Items donated are not tax-deductible. Contact Jay Gibson if you have any questions about donations for the silent auction.