Aloha members,
What a great 2017 Spring Conference!  We had over 100 attendees and definitely "Nourished Our Skills" as all of our speakers provided great information.  We hope to see you at our next Summer Seminar on August 4th from 10:00 am to 2:00 pm at the Queen's Conference Center.  We have partnered with Abbott who will be providing 4 continuing education hours.  Topics include:  (1) Nutrition Intervention Approaches for the Management of Malnutrition Among Hospitalized Patients; (2) 2016 Critical Care Guidelines: Update and Overview; (3) Lactation Overview; and (4); Understanding Neonatal Abstinence Syndrome.  Get your free ticket here.  For more information, contact our CPI committee at CPI@eartighthawaii.org.
Here are some pictures from the conference. Since it was Cinco de Mayo, we hosted a fun photo booth!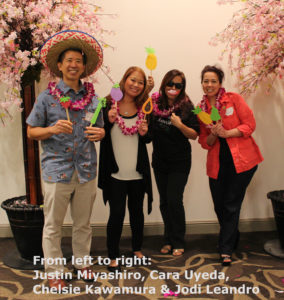 We are so proud to share that Erin R Van Genderen, RDN, wrote an article that was featured in the January 2017 Affiliate Spotlight.  This newsletter is shared with all of the AND affiliates!  See link to read the article entitled: Hawaii Academy of Nutrition and Dietetics High Fat Meets High Success at Shriners Hospitals for Children – Honolulu.  This summary showcases success of a physician-dietitian team in Honolulu.  We were fortunate to have Ryan Lee, MD and Miki Wong, MACO, RD, YFT present their research and success stories at our recent conference.
We received word from AND to honor and thank Ann Ditzler, RDN and Jean Hankin, RDN for their very generous donations to the Second Century Initiative.  Ann is also our liaison to keep us up to date on the future plans and vision of the Academy of Nutrition and Dietetics.
Amy Tousman, RDN has been working on a letter that we plan to send to the Director of Health to allow for RDNs to write diet orders in the hospital setting.  Thank you Amy for all of your hard work and we are keeping our fingers crossed that we can be successful with this important initiative!
Marie Kainoa Fialkowski Revilla, PhD, MS, RDN, LD , our incoming President-Elect wants to share with you some educational opportunities.  Apply now to the Child Health Assessment in the Pacific Undergraduate Summer Fellowship Program: http://www.chl-pacific.org/apply-to-chap-here
Check out the courses being offered through the Children's Healthy Living summer Institute:
http://www.outreach.hawaii.edu/summer/features/FEA-ChildHealth.asp
Finally, I want to say a special MAHALO to all of you for allowing me to serve as your President this past year.  It has been a tremendous honor to lead such a wonderful, talented, and fun group of people.  I appreciate each and every Board member, student, intern, and all of the volunteers for all of their hard work and dedication!  I look forward to continuing to serve as your Past President!
Nena Harrington, 2016-2017 HAND President