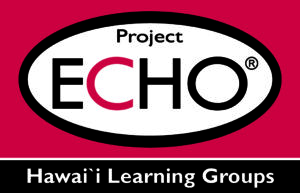 ECHO series focused on diabetes in Hawai'i has CEU opportunities available to Registered Dietitians and other health professionals. This series is presented through a collaboration with Project ECHO® at the University of New Mexico. This collaboration includes a mutual goal to improve healthcare for the under-served and follows the principles of content sharing and proper attribution. The curriculum is developed locally and available to other ECHO programs. Hawai'i Learning Groups follows UNM's principles of learning by case sharing, promoting evidence-based best practices, measuring outcomes, and leveraging technology for access to scarce resources.
Join us on Wednesdays, from 12:00 pm to 1:00 pm, for the next teleECHO™ clinic on a new topic.
Sessions consist of case presentations, a brief didactic, and discussion. Please go to the Hawai'i Learning Group http://hawaiilearning.org/ or contact Dr. Daniel Saltman for more information.
If you are in the area, please join us in person at the Queen's Conference Center. Please see the curriculum for the list of topics and dates.
This session has approval for 1.0 CPEUs for Registered Dietitian Nutritionists and Nutrition and Dietetics Technicians, Registered by the Commission on Dietetic Registration, the credentialing agency for the Academy of Nutrition and Dietetics. Suggested CDR Learning Need Codes: 5190, 3070; Level 2. Suggested CDR Performance Indicators: 10.4.2, 10.2.3
A case-presentation form is attached; please share your experience. Most of those who have been in a tele-clinic will endorse that these sessions are best when people feel like they can share stories about their (de-identified) patients or clients, challenges and successes, questions and understandings about the best patient care. "Everyone learns, everyone teaches." Please send it to dan@hawaiilearning.org before a weekly session.
Mahalo for your participation and welcome to this new, innovative learning community!
Diabetes Learning Group Curriculum