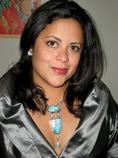 This year we have an exciting line-up of speakers and topics that address the latest in nutrition trends and practice from infancy to geriatrics. Topics will include childhood obesity in Hawai'i, IBD, SBS, food allergies, end-of-life nutrition, professional and personal development, and more! Our speakers are from all over the United States and are of exceptional caliber.
Our keynote speaker is the renowned Maya Soetoro-Ng, university professor, author, peace educator, mother of two, and Barack Obama's sister. She will share her own experiences, both personally and professionally, about health and wellness at home and around the country.
The conference will also offer a plethora of educational tables and poster boards, and provide attendees with valuable information regarding Hawai'i's nutrition and food resources.
Each participant will receive a gift for attending as well as the opportunity to win amazing prizes!
New! Interactive break-out session
Sally Belles, RD, CDE, will host an interactive session on legislation related to childhood obesity, older Americans and specialty foods, and how public policy issues tie into nutrition and the life cycle. Join us and earn additional credits (pending approval) immediately after the last speaker. Finish your day with this optional workshop from approximately 3:40-4:30 p.m. Let us know if you will be attending on your registration form.