In celebration of HDA's 75th Anniversary, we are honored to present Dr. Glenna McCollum as our Keynote Speaker.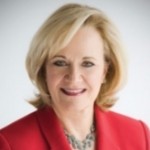 Dr. Glenna McCollum, MPH, RDN
2013-2014 President of the Academy of Nutrition and Dietetics
Glenna McCollum is President of the Academy of Nutrition and Dietetics, the world's largest organization of food and nutrition professionals. She is vice president of health and nutrition for PhycoBiosciences, Inc. and serves on Arizona's statewide leadership board of directors for Project CENTRL (Center for Rural Leadership). She was a founding member of Gold Canyon Bank and served as the inaugural president of Chandler University; assistant dean and director of nutrition of Central Arizona College; and chief executive officer of the Chandler Education Foundation. McCollum is a nationally known speaker, a published author and was the editor for more than 20 nutrition textbooks during her tenure at Central Arizona College. She also directed the production of Giggles, Squiggles and Squirms, an early childhood education series promoting good nutrition, physical activity and parent involvement in early learning. In addition to serving on the Academy's Board of Directors, McCollum was the speaker for the House of Delegates and vice-chair of the Quality Management Committee. She was recognized as the Outstanding Educator of the Year. McCollum served as president of the Arizona Dietetic Association and was recognized as Arizona's Outstanding Dietitian of the Year. She was also recognized as the Outstanding Woman of Chandler and received the Community Service Award from Project CENTRL. McCollum is a graduate of Arizona State University. She earned a master's degree from Loma Linda University and a doctorate in management and organizational leadership from the University of Phoenix.